Home / Heartfelt Stories
"Direction Regained"
Ratan Sarder, a patient story from Sankara Nethralaya, Kolkata
Mr Ratan Sarder is a 54 year-old private security guard living in the slums of Kalinagar Sarder Para, Kolkata. He is the sole breadwinner, supporting a family of four on a meager monthly income of Rs. 6000/-. Since the past one year, Mr. Ratan had been experiencing poor vision in both eyes making it difficult to continue his job as a security guard.
Though he needed treatment for poor vision, he was unable to access any eye care due to his low income. He struggled to clearly see both near and distant objects, and it became challenge to continue with his job as a security guard, and to even move around.
He came to know from other beneficiaries that Sankara Nethralaya, Mukundapur hospital was conducting a free eye camp. Ratanji was elated that the camp also provided free food, lodging, medicine, and transported him from his home to the hospital and back again after surgery.
At the free eye camp, he was diagnosed as having significant cataract in both eyes and was advised for cataract surgery. The SN team brought Ratanji to the hospital one day before the surgery where he underwent a detailed eye examination, along with blood tests and a pre-operative checkup.
After his cataract surgery, and the first post-operative checkup he was returned to his home. One month after the surgery, he was given free glasses. Ratan is very happy that he has regained his vision with the support of the doctors and all the staff of Sankara Nethralaya, Kolkata, and is grateful for the free treatment that has enabled him to keep supporting his family.
In his own words – "Amar chokh chara ami puro dishehara hoye gechilam. Ami amar disha khuje pelam" (I was completely directionless without my vision. I have regained the direction of my life).
With your support, many more patients affected during the pandemic will regain their vision!
All donations to SN OM Trust are 100% IRS Tax Exempted in US, IRS Registered 501 (c) (3)
We seek your continued support as we progress in our battle against blindness.
---
Providing the Vision of Education
Little did 12 year old Mohana living in the small village of Agaram, off Gummidipoondi on the Chennai Andhra border realize that her weekend visit to a cousin's place would turn into a nightmare which would haunt her for the reset of her life, a bubbly 12 year old she had gone over to her cousin's home for a nice holiday, the little girl completed her daily chore of washing her clothes and went up to the terrace to dry it out on the clothesline. As a new comer to the house she was not quite aware that danger was lurking in the form of a high tension electric wire which ran very close to the clothesline. As ill luck would have it the wet cloth that she was attempting to hand over the clothesline came into contact with the high voltage line supplying power to the neighborhood.
The damage was swift and terrible, the high voltage current that ran through the child had a crippling effect on her internal and external organs, the impact throwing the charred and almost blinded girl off the terrace, the steep fall to the ground floor resulting in bruises, causing more misery to the little one already under unbearable pain and shock.
It was only after 3 years of acute care and multi-pronged treatment that Mohana could be brought back to near normalcy, the only silver lining in the whole episode was that being in her adolescence it did not take long for the replacement of her old charred skin by fresh skin cover. Although the long treatment had borne fruit and Mohana had come a long way from the terrible condition that the electrocution had left her, the impairment to her vision caused by the accident caused by the accident continued to be a cause for concern and an obstacle to continuing her education. Mohana and her parents walked into the Jaslok Community Ophthalmology Clinic the community service wing of Sankara Nethralaya with little hope of gaining her eyesight and a sense of despair writ large on their face.
The team of doctors examining her diagnosed the cause of vision impairment to be a complex case of trauma and accident triggered cataract. Vision impairment was reversed after intensive treatment including surgery and total vision was restored to the utter joy and disbelief of the child and her parents, the restored vision helping her to continue her schooling which was interrupted by the terrible accident.
---
Technology adds quality and convenience to community eye care
Rajendran being helped down the surgical bus by Sankara Nethralaya staff
Name of patient – Rajendran
Place - K. Erukampet –Tribal hamlet located in the hilly region off Vellore.
Medical Record Number NO 2035399
Rajendran hails from Erukampet, a backward tribal hamlet in Vellore District, Tamilnadu. Like many in this small hamlet he is a landless farmer who makes his living by toiling in the nearby fields under the scorching sun as a daily wager right through the day. The area is not connected by even a mud road and being located amidst hillocks makes it even more inaccessible. Bereft of any transport facility, the villagers especially people with ailments needing Medicare find it extremely hard to connect to the nearest town
Sankara Nethralaya's twin Mobile Surgical Eye unit that reached Chunampet the nearest village to conduct an outdoor eye camp in the neighbourhood naturally turned out to be a Godsend for the villagers. Residents from the surrounding areas cutting across age groups made a beeline to the eye care and operation theatre on wheels to get their eyes checked. Rajendran was among the large gathering of people assembled at the camp site with lot of hope and faith that the two large buses parked adjacent to each other would bring the light back into their lives. Rajendran had been experiencing diminishing vision because of advancing cataract which hampered his normal life and work. A detailed eye examination revealed that he needed to undergo cataract surgery. The following day, after surgery fitness tests, Rajendran underwent surgery for cataract removal on his right eye, in the mobile surgical eye unit, the theatre on wheels. The cataract was removed using the latest surgical process on par with a surgery performed at a base hospital and intraocular lens was fixed giving him back his failing vision.
Examination at the post surgery review camp conducted after a week indicated that Rajendran's eye sight was perfect and his vision was completely restored. The real testimony and joy of his recovery however manifested in the form of a gleaming, smiling Rajendran who had difficulty even to walk just a week ago, reporting to the review camp jubilantly riding his moped, his eyesight good enough to traverse the bumpy terrain with confidence. With joy overflowing the poor farmer wholeheartedly thanked Sankara Nethralaya for not only reviving his vision but also bringing it right to his door step, and helping him to resume his occupation and daily chores, which were rudely interrupted by the cataract caused vision impairment.
Vision impairment especially in remote inaccessible areas could mean loss of livelihood and sustenance, a grim situation which the twin Mobile surgical bus was engineered to eliminate and revival of Rajendran's vision was a fulfillment of this objective. .
---
Sankara Nethralaya extends special care to a special child
Born deaf, dumb, partially blind, mentally not agile and with multiple disabilities. Treated at JCOC for congenital cataract on both eyes
Sophia Edward Thoni, 7, is the only child, born with special needs, to parents whose economic strata fall far behind decent living. Her father is a helper at a Printing press and mother, a housewife, blinded in one eye.
As Sophia grew up to a one year toddler, when she had difficulty in swallowing food or having a drink, she underwent a corrective surgery on her palette at the Government Children's Hospital, Egmore, Chennai to ease her difficulty.
Sophia, being both dumb and deaf was admitted to the Special School for children with disability at KK Nagar, when the little girl travelled all the way, a distance of over 20 kilometers from Villivakkam where she resides, along with her mother, each day, for speech therapy.
At her learning centre, the Principal Secretary & State Commissioner for the differently abled Shri VK. Jeyakodi, IAS was alarmed by the fact that the child was losing her vision and promptly referred her to the Jaslok Community Ophthalmic Centre. The doctors at Sankara Nethralaya acted quickly and stopped further damage from being caused by the congenital cataract coupled with an internal bleeding. A complex surgery was performed on both eyes by senior ophthalmologists, absolutely cost free, and the little girl's vision was restored. Today Sophia is a bundle of energy and smiles her way to the speech therapy and special needs school with her most important faculty restored by timely intervention.
---
Avowed to allay blindness
Hemavathi hails from Nazarathpet, a village at the outskirts of Poonamallee. She lives with her husband Munusamy, a son and her mother-in-law. Her husband Munusamy makes a living as a security guard in a warehouse situated nearby. A chronic alcoholic, Munusamy never brings home his hard earned money to run the family, thus pushing Hemavathi to earn a livelihood and support the family. Not till long ago, Hemavathi found a small time job, a few kilometers away from home, to engage herself as a casual labourer in a workshop, "Mica" company, as she puts it, earning a meager Rs.100/- a day. The strain of labour, at 49 had a severe impact on her eyesight, diminishing her vision, day after day; Hemavathi subsequently lost her job and has no means to live.
The Sankara Nethralaya Eye camp at Nazarathpet proved to be a god send, learning the good news about an eye camp being conducted in the neighbourhood, she soon made her way to the same, once at the camp her eyes were thoroughly examined and she was diagnosed for Cataract. I have to go back to work soon to support my family" said a choked Hemavathi, the sole breadwinner of the family to the Sankara Nethralaya team. Hemavathi was subsequently taken to the Jaslok Community Ophthalmology Centre and operated absolutely free of cost "I am able to clearly see everything now" beamed a gleaming Hemavathi with gratitude, ready to be back on her active feet…!!
Sankara Nethralaya Eye's outdoor community eye camps such as these where patients are examined in their own neighbourhood and those found needing surgery are transported to the base hospital where State of the Art cataract surgery is performed on them totally cost free are a boon to the downtrodden, a salient feature of these camps is that besides the surgery the patients are also transported to and fro to the base hospital and back and provided with food totally cost free.
---
Community Ophthalmology - Dispelling darkness and pain, bringing smiles
Saroja, now 53 years old, unfortunately both deaf and dumb, was found abandoned on the streets of Nallur, in Ponneri Taluk, where the girl stood thoroughly disarrayed, she was found by the good hearted Jeevarathinam, employed at a local college lab on his way to work about 35 years ago, he took the little girl in his care and protection and she grew up along with his three tiny tots as a member of the family.darkness and pain, bringing smiles
A few days ago, Saroja gesticulated about her splitting head ache coupled with watering red eyes and her ever so caring foster siblings brought her to the Jaslok community ophthalmic Center just on time. The doctors diagnosed it as a case of glaucoma and increased eye pressure, not losing a moment; they treated her for controlling the optic nerve damage subsequently operating on her opacified cataract.
Choked with emotion, expressed through tears, with glittering eyes, Saroja independently walked through the corridors of the hospital saluted her doctors and guardian, in whom she saw divinity, personified in human form.

---
A gesture beyond measures
(From left), Dr. Vasanthi Badrinath, Ms. Rukmani Venkateswaran, Chairman Emeritus Dr. S.S. Badrinath, Honorary Secretary and Treasurer, MRF, V. Vaidyanathan and Mr. Narasiman.
Actions speak louder than words and Rukmani Venkateswaran lives by that. Ms. Venkateswaran's journey from the small town of Trichy to the picturesque Brussels, is a journey of a daughter, a wife, a mother and of finding one's self.
Deeply inspired by her father N.S. Arunachalam, who as part of the administrative services, worked towards helping the weaker sections of society, Ms. Venkateswaran has over the years supported a number of charitable institutions. Sankara Nethralaya is one such recipient of her boundless generosity.
Ms. Venkateswaran has set up a trust in which she has named Sankara Nethralaya as a beneficiary. Apart from this, she has also donated Rs. 15 lakhs towards naming an operation theatre in the memory of her parents.
Life is all about the choices that we make. And Ms. Venkateswaran knows her choices well. A table tennis champion, she could have taken up a career in sports; an avid writer she could have pursued her flair for writing on a more serious footing, but she did neither. She even declined Prime Minister Indira Gandhi's offer of a post in the external affairs ministry following the death of her husband R. Venkateswaran, a diplomat, in Brussels. Instead, Ms. Venkateswaran, a post graduate from the city's Presidency College, channelised all her energy in raising her only child.
Today, with her son well-settled, Ms. Venkateswaran has focused her attention in pursuing what she learnt from her father – helping those in need.
Over the years she has lent support to many charitable institutions, including the Hindu Mission Hospital, and several orphanages. She has also donated to the Sri Mata Trust, a trust at the Cancer Insititute in Adyar, which supports poor cancer patients and their relatives/attendants with shelter and food during the treatment period. Her selfless act, she says, is her way of carrying on her father's mission, "what he has given, I'm giving back."
For all those who have met her, she is an inspiration — of all that we are and can be. Indeed, her actions speak volumes of her benevolent nature. Indeed, she is her father's daughter!
Sankara Nethralaya applauds this magnanimous personality and thanks her profusely for her selfless gesture.
---
A Small big step
Charity, they say, begins at home. Vikram Falor couldn't agree more. Growing up watching his grandparents and parents philanthropic gestures, this 19-year-old takes "great pride" in continuing with the family's efforts in "giving back to society."
Recently, the first year B.Com student, from Loyola College, donated Rs. 5,501 to Sankara Nethralaya.
As a teenager, Vikram watched his grandfather Mr. R. Falor and other family members actively support various charitable organisations, Sankara Nethralaya being one of them. As a XII std student, Vikram, along with a group of friends, visited the Jaslok Community Ophthalmic Centre. The visit proved to be an eye-opener to the group. "We got to meet so many people who were being treated. These were people who came from small towns and many were not aware of their medical condition," says Vikram.
Seeing the selfless service by doctors and staff at the centre towards the underprivileged only reinforced Vikram's belief in the need to give back to society.
The group of friends then decided that they would contribute in some way to help the needy. On May6, 2009, when Vikram handed over his donation cheque to Dr. Badrinath it was his first step, but certainly not the last, in doing his bit for society. For, this gen-next youth, who loves cars, bikes and his i-pod, believes "you have to be the change to bring out a change." We couldn't agree more.
---
A Mighty Heart
Mr. Manohar Devadoss (left) with Chairman Emeritus Dr. S.S. Badrinath and Dr. Vasanthi Badrinath
during his visit to Sankara Nethralaya.
"Adversity is a fact of life. It can't be controlled. What we can control is how we react to it." …. And who better to know that than renowned artist Manohar Devadoss. Diagnosed with retinitis pigmentosa, a degenerative eye condition, Manohar Devadoss' story is not that of a disgruntled and cynical soul but one of courage, faith, belief and human resilience.
Unfazed by his medical condition, Mr. Devadoss has continued drawing since his diagnosis in 1975 with the same zeal and precision. What makes his drawings even more special are their purpose — proceeds got from the greeting cards bearing his drawings are given to charitable organisations. Sankara Nethralaya is fortunate to be one of those charitable organisations to whom Mr. Devadoss lends his support.
Mr. Devadoss visited Sankara Nethralaya on April 4, 2009 to handover his donation cheque as part of his continued support to the cause of Sankara Nethralaya. In an informal chat with Sampath Kumar, the hospital's IT head, Mr. Devadoss spoke about his relationship with the hospital and about his Mahima endowment.
A "Friend of Sankara Nethralaya," Mr. Devadoss says his association with Dr. Badrinath dates back to 1975. And since then it has grown into a doctor-patient-friend bond which has only strengthened with every passing decade. "Dr. Badri's personality is magnetic. Vasanthi Amma also became very close to us. "If I have a vision problem, it was my misfortune. Yet knowing Dr. Badrinath has been a key fortune of my misfortune because if I didn't have a misfortune, I wouldn't know Dr. Badrinath," Mr. Devadoss adds.

The Mahima endowment
The Mahima endowment was started by Mr.Devadoss in the memory of his beloved wife Mahima. Says Mr. Devadoss, "I consulted my wife Mahima about an endowment in her name, when she passes away. She immediately said: 'Let our endowment be to Sankara Nethralaya, who cure the blind.' That's how the endowments started."
He adds: "Our own contribution to Sankara Nethralaya is very small but it comes from our heart. It has enriched our life, whatever we have done, even the greeting card. My very first greeting card was about Kancheepuram Maha Periyava. That was the first greeting card we did on a mass scale to Sankara Nethralaya. Then we started doing for other companies like TVS… My best wishes and prayers to Sankara Nethralaya will keep growing. May Tamil Nadu be the first State to totally eliminate avoidable blindness."
His wife was more than just a pillar of support to him. In fact to all those who knew her, Mahima Devadoss was an epitome of courage and grace. Courage because despite being a quadriplegic, following a road accident, she never let her disability disable her from living her life and raising funds for charitable organisations. And grace because she faced the trying times with a fountain of optimism and never letting go of her incredible spirit and warm personality.
"My wife Mahima was a talented person winning many gold medals in college days. After her accident, I saw her in a new light. She accepted the tragedy with grace. And in a positive way. She sympathized with the lot of blind children. She always wanted to help people with a vision problem since I had one," recalls Mr. Devadoss.
"God had denied her so much in life so I want to compensate in my little way. I wrote two books on her and made two portraits of her. I hope this endowment will aid a great institution like Sankara Nethralaya which will bear her name and which will help the poor."
Life wasn't exactly a smooth ride for this couple, yet in adversity they mastered the art of giving.
How the endowment keeps going
Mr. Devadoss said "a computer engineer with noble thoughts came to know of the Mahima endowment and towards supporting it, he would regularly buy a greeting card of mine and contribute an equal amount. He regularly does it for the endowment."
A writer-cum-artist, Mr. Devadoss has left many in awe, not just of his drawings but of his magnanimous personality. Life may have been more a bed of thorns than roses for him, but that hasn't deterred this unassuming person from pledging unconditional support to a number of charitable organisations. To rise beyond your disability takes courage, unflinching resilience, belief and a mighty heart…and who better to know than Mr. Devadoss.
Hand Drawn Paintings of Mr. Manohar Devadoss to raise funds for Sankara Nethralaya
---
A Thoughtful Gesture
Ms. Shankar of Burlington recently had her dance arangetram in the US. Ms Shankar had requested all the guests at the program to donate to Sankara Nethralaya instead of giving her gifts. This wonderful gesture of hers helped raised $1400 for the cause of the visually challenged in India.
This amount helped us to perform 18 free cataract surgeries on indigent patients and helped them to regain their vision and become productive members of society.
---
A Spirit of Giving
Ms. C. from Nagpur has been a regular donor to Sankara Nethralaya cause from the year 1979. Starting with a humble contribution of Rs. 5 every month, she gradually increased it in stages to Rs. 10, 20, 50, so on and so forth and today is contributing Rs. 500. This donor strongly believes that Sankara Nethralaya can make a change to the lives of people and her unflinching faith makes us feel very humble and dedicate ourselves further to the cause we espouse.
---
Igniting Hope
Master B a young boy of 6 years lost his vision due to an allergic reaction. Sankara Nethralaya gave him hope where he had none. With a new surgical procedure called MOOKP ( Modified Osteo Odonto Kerato Prosthesis), the young boy has gained the gift of sight. This complicated, time consuming and complex procedure is performed only at a few centres in the World. Sankara Nethralaya performed this very expensive procedure totally free of cost to this indigent boy.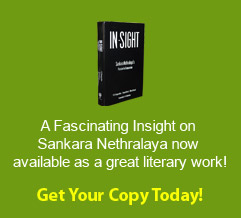 For More Information -
To Donate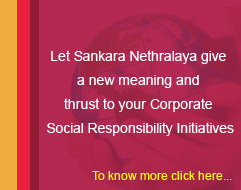 Other Links